Well we had fun at what is probably our biggest convention of the year. San Japan 8 ran from July 31st through August the 2nd.
We introduced a couple of new items to our table: Cosmetic bags! These bags are large enough to fit a 3DS in and we made about 8 bags using two designs (Four per design). The bags feature Nekotalia kitties. One is Axis and the other is Allies over an argyle pattern. We sold all but one bag and we intend to order more and put them in our shop as well.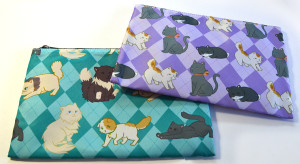 It was really great to see returning friends as well as meet new ones. I know our booth tends to have a lot of Hetalia, so it's amusing when we hear how people are looking for the "Hetalia table". We love Hetalia as much as any other fan, so we really hope that shows in our work for it! We will probably work on new Hetalia-related prints in the future as well. Hetalia the World Twinkle is out and Hetalia World Stars is currently at volume 2 in Japan (we hope it gets published in English so more fans can reach it!)
Again, we're considering expanding our offerings, so hopefully we'll be able to get some things done before our next con which is RealmsCon (That's October 2-4, 2015 in Corpus Christi, TX).